In the initial days of industrialization, we did not think about smart devices or devices that can be performed multiple tasks on one voice command. As time changed, smart gadgets made revolutionary changes to human beings and their lifestyle. At present time human beings are tilting towards automation that increases the research and development in smart gadgets. There are plenty of exciting innovations in the world of smart home and automation, between virtual assistants or Smart speakers that can control your smart devices like Smart AC, Washing machine, Refrigerator, Lights, and more. Today we are going to discuss one more IoT for home and that is Smart Plug.
What is a Smart Plug?
Smart plugs are gadgets that take a wired home to next level. They plug into our home outlet power supply and let us run portable equipment like lights, Fans, or other Appliances through Smart Speakers or Smartphones. So, we can say that smart plugs are a simple way to automate the wired devices in our home.
If you have a smart home hub, like Amazon Alexa or Google Assistant, you can also connect your smart plug to it so you can enable voice commands like, "Hey Google, turn on the table lamp". That is about the smart plug.
Engineering Inside:
Now, it's time to look inside this gadget. This gadget is portable and compact as of result all of the internal circuits are confined within a single logic board. We can differentiate the logic board into several parts. Here we are going to focus on some important units of logic boards:
Wireless module
Energy monitoring chip
Power supply
Relay
RF-shielding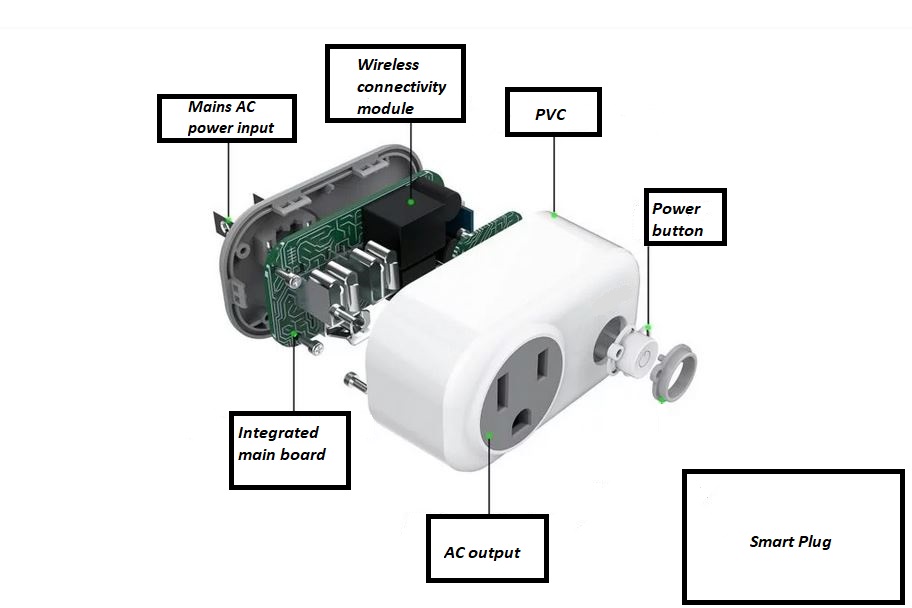 Wireless Module:
In this gadget, the wireless module provides Wi-Fi connectivity and most commonly uses ESP8266 Wi-Fi adapter. This adapter is a self-contained SOC (System On Chip) with an integrated TCP/IP protocol stack that can give any microcontroller access (connectivity for devices so that they can send & receive data and accept commands) to your home Wi-Fi network. The ESP8266 module comes with an AT command set firmware; it simply means that you can directly connect with Arduino or micro-controlled devices to use it.
Energy Monitoring Chip:
Most of the manufacturers of the smart plug provide onboard energy monitoring chips to monitor the household power supply or single-phase energy, active power, current, voltage, and other important values for the connected load. For this purpose BL0937 IC is most popular in smart devices.
Power Supply:
It is an important section in the logic board that provides essential dc power sully to wireless and relay modules for proper operation. Generally, it contains several electronic components similar to a mobile phone charger.
Relay:
This part of the logic board works as an electromechanical switch. When the smart plug gets a command from the user, it changes the state of the relay. In simple terms, we can say that once the command received relay turns ON or OFF state to change the output state (Turning ON or OFF to connected device like table lamp, fans).
RF-shielding:
It does not play a direct role in the operation of this gadget but RF-shielding is important in every wireless connectivity-based device. RF-shielding is also known as electromagnetic shielding and it is mainly responsible to reduce the effect of the electromagnetic field in a space by blocking the field with barriers made of magnetic materials. This covering protects the sensitive electronic components from magnetic fields that increase their life. Here, wireless module IC's are protected by RF shielding.
 Working Process:
Once the user connects their wired appliances with a smart plug and plugged into outlet power sockets, the connected appliance has ready to use either via using a smart plug application on the smartphone or virtual assistant. Let's discuss the flow of this gadget. When the user commands the gadget it receives the command through the wireless module. After that logic board process this data by using an onboard micro-controller. On successful processing of the command, the relay switch turns ON or OFF state. That's how this gadget work.
Applications:
There are several uses of the smart plug; some of them are given here:
In cooking with the slow cooker.
For coffee-making using a coffee maker.
Control Air-conditioners and space heaters.
Thanks for reading. See you soon with another exploration!
Share This Story, Choose Your Platform!