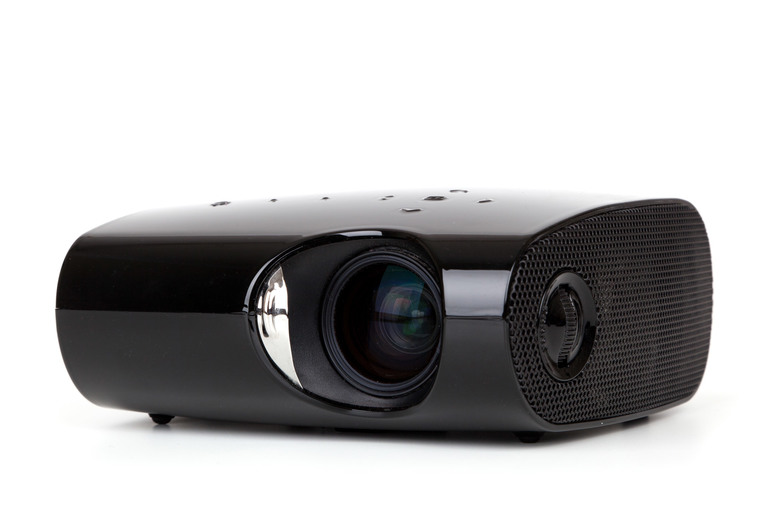 Do you ever see the Charlie Chaplin show with your grandpa? Yeah. In those days cinema projectors were working with multiple cellulose-based thin films. The projection of that projector was not much good but still, it was entertaining. As time passes, technology creates an influence on these projectors also. Now, these projectors are completely changed objects. They use HD quality videos and Dolby Digital sound to express the projection capability. Today we are going to discuss this unique gadget that does not need any display device.
What is an LCD Projector?
The LCD projector is a kind of output device that takes input images or videos by a computer system or any Blu-ray player and reproduces them by projection onto a screen, wall, on any other surface. For best projection, the surface should be plane, clean, large, and lightly colored. The projector can be made projection of either still or moving images (videos). A projector is often about the size of an AV system and light-weighted.
Engineering Inside:
The LCD projector is a device that mainly controls light beams to generate a proper display. It has below main parts:
Image engine
Optics
Mainboard
Power supply
Case and control panel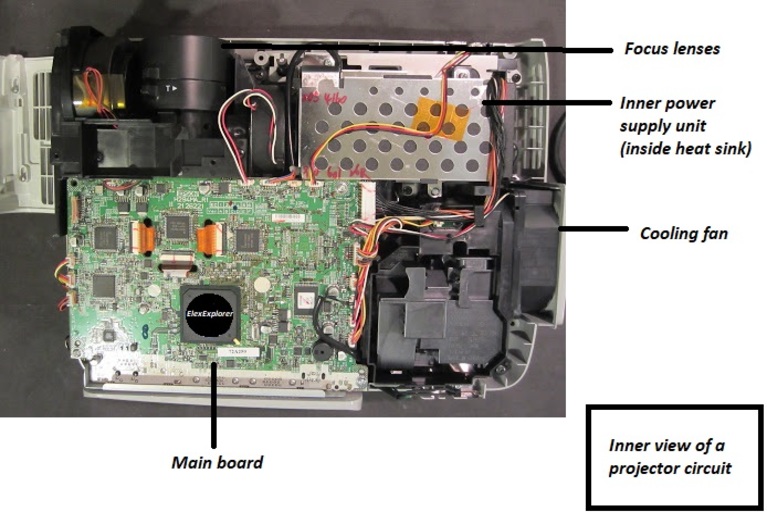 Internal circuit board of projector
Image Engine:
It is a central point of this gadget. The image engine produces an image or video within the projection limit or projector for the display screen. LCD projector uses liquid crystals arranged as individual pixels to recreate color based on an input electronic signal.
Optics:
The optics are made of series of reflecting mirrors. In the video, projectors optics perform the task of transferring the image from the internal image engine onto a screen for viewing. Internal series of reflecting mirrors and prism reflect and split the light into its component colors. A highly luminous light bulb shines on the completed image via mirrors, and the light then passes through the projector's lens. It is a projector focus lens that contains several pieces of curved glass, known as an element. These elements bend the light to magnify the image and to control focus.
Mainboard:
In every projector mainboard is present. Its behavior is similar to the motherboard of a computer system and it contains several electronic chips and components. The mainboard is responsible to synchronize all internal functions to drive the image engine and allow the user to control the various settings of the projector.
Power Supply:
Every electronic gadget has its power supply either with battery backup or alone. LCD projectors need a power supply to process the current traveling to the motherboard and bulb. Projectors with motor-based lenses also use the power supply to drive electric motors that adjust the lens. The power unit may be contained internally or came with a separate power adapter that allows a smaller, lighter, and portable projector design.
Case And Control Panel:
In most projectors, plastic or metallic cases are being used to protect the delicate internal mechanism. The case provides a place to mount the electronic circuits and house the cooling fans. Cases must contain proper ventilation for cool air intake and hot air venting. A projector also contains a control panel that contains several knobs, switches, and mini displays to configure it manually. Some projectors also include an infrared sensing board for receiving IR signals from a remote control.
Working Process:
To understand the functioning of this gadget we can divide the working into small steps. In the first step, a strong and intense white light beam is emitted from a source. In the second step, this white light beam jumps over the group of mirrors that includes two dichroic mirrors (dual-wavelength mirrors). These mirrors are coated with some special coating that passes only a specified wavelength of light. We all have seen rainbows in the sky, to create this water drops work as lenses that beaks a beam into distinct wavelengths. Dichroic mirrors use the same principle to break the beam into a specified wavelength.
So, when a white light beam hits dichroic mirrors, it gets scattered into red, green, and blue light. In the third step, each beam of RGB (Red, Green, and Blue) passes with an LCD (liquid crystal display) composed of thousands of tiny pixels. It means Red light passes with one LCD, Green light passes with the second LCD, and Blue light passes with another.
All three LCDs inside the projector display a similar image or video, only on the grey scale or we can say it black and white. When the RGB color passes through three LCDs then it generates three different versions of the image or video: one painted red, one painted green, and one painted blue. In the fourth step, these three versions of image or video recombine in a dichroic prism, and here final single image or video is composed not only into three colors but millions of colors. The final generated light beam then passes through a projector lens and onto the big screen.
Applications:
LCD projectors are being used nowadays in many ways. For example, in the Education sector – to display the lectures to students, in Business – to represent the presentations to clients, for entertainment – to combined with Home theater system, and many more.
Thanks for reading. See you soon with another exploration!
Share This Story, Choose Your Platform!