Most of us are not aware of this kind of gadget before covid – 19 eras. Amid the current coronavirus (covid -19) pandemic, many people across the whole world are advised to maintain social distancing and follow preventive guidelines to prevent the spread of this pandemic. However, social distancing, wear a mask, and treatments are pivotal methods to slowly but carefully eradicate this pandemic. To pave our way through this time, technology is becoming our pal to detect victims of the pandemic. Here infrared thermal imaging scanner plays its role in this covid – 19 era.
What is the role of infrared in thermal imaging scanners?
The thermal imaging scanner is a device that can read an individual's body temperature and assess if that person may or may not have a high body temperature. Each object on this earth, which has some temperature, radiates infrared light or a kind of heat from its body. Using IR- sensing (Infrared sensing), a thermal imaging scanner is easy to use and deploy at a portable stand and ready use. It uses infrared to detect temperature which can tell us how much heat something or human beings has and give us its temperature value.
Inside infrared thermal imaging scanner:
The thermal imaging scanner is a combination of a lens and infrared detector that detects temperature and gives a visual representation of the infrared radiation emitted by human beings and surrounding objects which is visible or invisible to naked eyes.
Exploring internal units of thermal imaging scanner:
Special lens
Thermal imaging sensor
Signal processing unit
Display
Thermal imaging scanner diagram
Thermal imaging lenses run from narrow fields of view 60 to 150, standard 250 view, and wide fields of view from 450 to 900. For special uses, for example in research and development (R&D), we will also see macro lenses that can see extremely sharp details. A thermal imaging scanner can use one or more than one lenses. It all depends on its uses.
Thermal lenses are made of crystal, not glass. To know the difference between crystal and glass click here. Therefore, there are minor differences in the physical properties.
This can cause calibration-related issues between the lens and thermal imaging sensor. Some thermal imaging sensors have an internal chip to provide calibration.
As we have already discussed special lens of this gadget. The lens is employed to focus the infrared spectrum on the sensor that was emitted by objects. The focused IR-spectrum is scanned by a phased array of infrared detectors or sensors. These arrayed IR-spectrum detector elements produce a much-elaborated temperature pattern referred to as a thermogram. The internal circuitry of the thermal sensor converts this thermogram data into electrical impulses.
Signal processing unit:
The impulses (those are generated from thermogram data) are sent to an SPU (signal processing unit); it is a circuit card that interprets the information to display.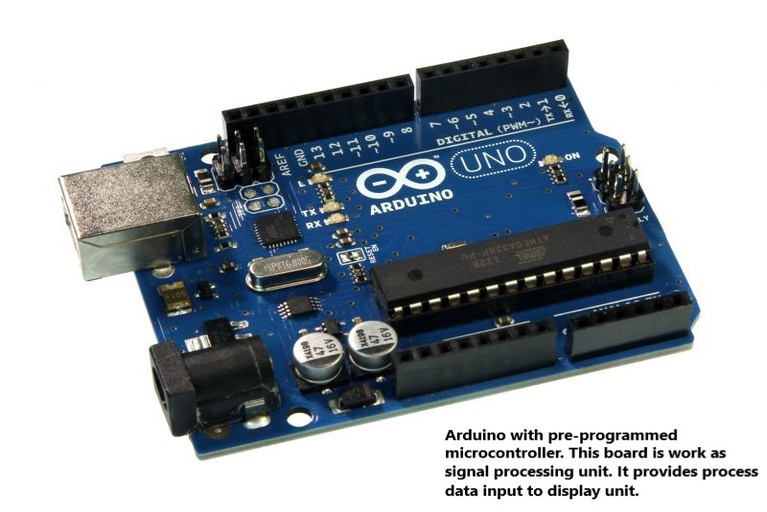 Arduino – Signal processing unit of thermal imaging sensor
The SPU sends the information to the display wherever it seems as numerous colors depending on the intensity of the IR – spectrum or infrared radiation (emitted from object).
SPU is generally a microcontroller-based circuit unit; also known as 'Arduino'. It is specifically programmed to process electric impulses and send the processed signal to the display unit. This output signal contains thermal imaging and object body temperature to display.
Display:
It is an interface we can see thermal images and temperature of objects. The display is generally LCD type.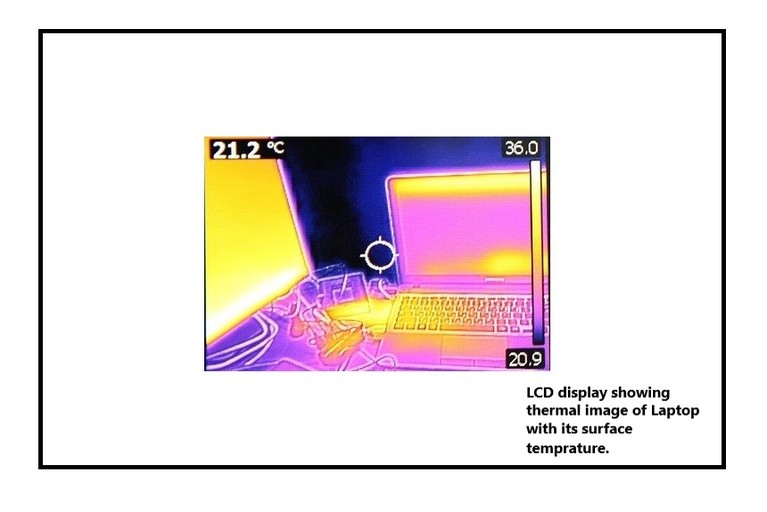 Display screen of thermal imaging scanner
Thanks for reading. See you soon with another exploration!
Share This Story, Choose Your Platform!